Cataracts
A cataract is the clouding of the eye's lens. The lens is made up of water and protein, and if some of that protein clumps together, it will cause a cloudy area in the lens. As time goes on, the problem can worsen, making it harder to see. Cataracts, if left untreated, can eventually cause blindness.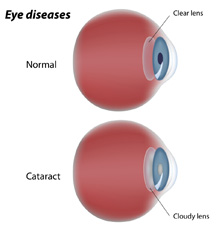 Cataracts are caused by the clouding of the eye's lens.
Types and Symptoms
Cortical cataract: The lens fibers become opaque, causing glare (especially during night driving). The cataract resembles the spokes of a wheel. Common for diabetics. Other risk factors include female gender, nearsightedness and sunlight exposure.
Subcapsular cataract: Starting as a small, opaque area at the back of the lens, this type of cataract resides right in the path of light on its way to the retina. Subcapsular cataracts often interfere with nearby vision (such as reading) and can cause glare (especially during night driving). Common for diabetics, people with a high degree of farsightedness and those taking high doses of steroids.
Nuclear cataract: Formed in the center of the lens, this type is most commonly attributed to aging. In its early stages, it may yield a temporary improvement in nearby vision (called "second sight"), but over time the cataract will grow denser and obstruct vision. Brown irises and cigarette smokers are also at an increased risk for nuclear cataracts.
Congenital cataract: People that are born with cataracts have congenital cataracts.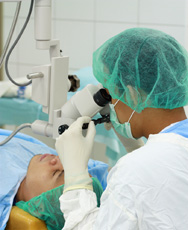 Cataract surgery is performed millions of times per year in the US.
Treatment
In the early stages of a cataract, a pair of new glasses or strong bifocals, proper lighting and other visual aids may help improve your vision. But as the condition progresses and worsens to affect your daily life due to poor vision, surgery may be the best option.
Poor vision does not have to be part of the natural aging process, and cataract surgery has been proven to successfully restore vision and is a fairly low risk procedure. 98% percent of patients have a complication-free experience resulting in improved vision. This surgery is also the most common one performed in the U.S.; millions of people each year opt to undergo the procedure. During surgery, the part of the eye lens with the cataract is removed, and often it is replaced with a clear, artificial intraocular lens (IOL).
Before deciding to partake in surgery, talk to your eye care professional. Your doctor cannot make the decision for you, but can help you understand the risks and benefits for your specific situation.