Amblyopia
Amblyopia is a very common condition, which is simply the problem of having one eye that is stronger than the other. If not caught early enough, a person with amblyopia may experience permanent vision loss in their weaker eye, because the brain can simply shut off the eye that is underdeveloped.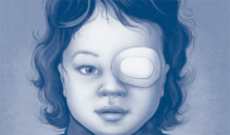 Patching the good eye will force the brain to recognize the weaker eye.
Amblyopia, also known as a "lazy eye," is most easily corrected in children, because their eyes and brain are still developing connections.
Amblyopia may possibly come about due to having one eye that is more near- or farsighted than the other, or because the eye pulls inward. In order to prevent double or blurry vision, the person's brain may simply ignore the weaker eye, which could cause the brain to shut off the weak eye permanently.
The condition is simply treated with patching: by blinding the good eye, the brain is forced to recognize the weak eye and develop stronger connections. This is a successful way to prevent vision loss in the weaker eye. If amblyopia is not treated at an early age, it is possible that the weak eye will never see as well as the strong eye, therefore it is highly recommended to start treatment as early as possible.