Age-Related Macular Degeneration
Age-related macular degeneration (AMD) is a disease associated with aging. It slowly destroys sharp vision needed for reading and driving, and mostly affects people age 50 and up. Though painless, AMD can affect every day life because it affects the straight line of vision. It affects the part of the retina that is used for direct focus (such as recognizing faces), called the macula. AMD occurs in two forms: dry and wet.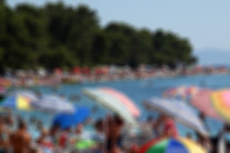 One of AMD's symptoms is blurry vision.
Symptoms
Some cases of AMD progress so slowly that little change is noticed in vision. Other cases progress rapidly, leading to vision loss in one or both eyes. Early stages of AMD are accompanied by blurry vision, a loss in contrast sensitivity, distorted vision and drusen. Drusen are yellow deposits under the retina, and can be detected during an eye exam.
Dry AMD

This is the most common type; 85% of all AMD diagnoses suffer from dry AMD. It occurs when the light-sensitive cells on the macula gradually break down, causing blurring in the central (detailed) vision of the affected eye. The more AMD progresses, the more vision loss occurs in the center of a patient's vision. Often blurred vision is noted as an onset of dry AMD; trouble reading, recognizing faces, or seeing while driving. The most common early sign is drusen, which can be detected by your eye care professional during an eye exam. Dry AMD comes in three stages: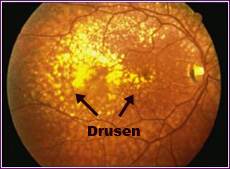 Drusen can only be detected during an eye exam.
Early AMD: No symptoms are present for the patient, but small or medium-sized drusen can be found on the retina.
Intermediate AMD: As the disease progresses, the patient may notice a blurry spot in their vision, or that more light is needed for nearby tasks such as reading or writing. Also, the doctor can spot many medium-sized or a few large drusen on the retina.
Advanced Dry AMD: During this stage, the blurred spot will worsen until it is nearly impossible to read or recognize people until they are very close to the patient.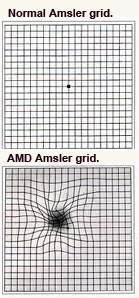 An Amsler grid is made up of straight lines (above), but a person with AMD may not see the same (below).
Wet AMD

Everyone who suffers from wet AMD was diagnosed with dry AMD first. This disease can take the patient's central vision rapidly. Wet AMD is characterized by abnormal blood vessels behind the retina growing under the macula. Often, these vessels leak blood and fluid, causing the macula to be raised from its normal place. Early symptoms of wet AMD are distorted vision (straight lines that appear wavy) and blind spots in central vision. An Amsler grid is used for a brief test when AMD is suspected. Contact your doctor immediately to schedule an eye exam if you experience blind spots and distorted vision.
Treatment
Because the disease is age-related, there is no absolute cure for macular degeneration. However, there are options to improve vision.
Dry AMD: The only option a patient has is to try to slow the progression of the disease. A combination of dietary supplements, antioxidants, vitamins and minerals is ideal to slow the age-related damage.
One of the most recommended minerals is zinc, because the retina needs relatively large amounts in order to stay healthy. Also, a diet rich in carrots, spinach, citrus fruits, whole grains, collard greens and other deeply colored vegetables can be helpful.
Wet AMD: A couple of different options are available to slow down the destructive effects of wet AMD.
Laser surgery: The leaky blood vessels are destroyed using a laser, preventing further loss of vision. Repeated treatment may be necessary, since the risk of new blood vessels developing is high. However, only a small percentage of people qualify for laser surgery, because it's most effective when the vessels have developed outside of the center of the macula. Also, laser treatment may destroy healthy tissue which can result in other vision loss.



Surgery is one of several treatment options for wet AMD.

Injections: Since wet AMD is characterized by abnormally high levels of a certain growth factor that promotes the growth of new blood vessels, injections of anti-VEGF may help. The drug can block the effects of the growth factor. Before the injection, the eye is numbed. Afterwards, the patient will remain in the doctor's office to have their eye monitored. More than likely, the patient will need multiple injections in order to keep wet AMD from progressing.


Verteporfin (photodynamic therapy): This drug is injected into the patient's arm, which is then carried to the new blood vessels in the eye. To activate the verteporfin, the doctor shines a light into the patient's eyes for about 90 seconds. This procedure destroys the new blood cells and leaves the healthy tissue intact, thus making it more effective than laser surgery. However, the patient has to stay out of direct sunlight and bright indoor light for up to 5 days after the procedure to protect their other blood vessels from being affected by the verteporfin. This option slows the rate of vision loss, but does not stop it. Often, patients have to repeat the treatment.