Tips for Relieving Computer Strain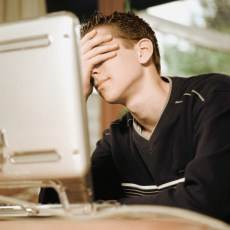 Extended computer use can affect your vision.
Lots of people work with a computer every day for their jobs. Studies have shown that visual disorders, as well as eye strain, occur in around 50 to 90 percent of computer workers. Not only are the eyes affected because of prolonged computer use, but the entire body as well, causing extreme fatigue, leading to high amounts of work errors and lower productivity.
Here are 10 useful tips that you can follow in order to prevent risks of eye strain, as well as symptoms of computer vision syndrome (CVS).
1. Go to a doctor or optician for a regular eye exam.
It is ideal for anyone who works with the computer for longer periods of time to have a regular comprehensive eye exam. This probably the easiest thing to do to prevent eye related problems. The National Institute of Occupational Safety and Health (NIOSH) suggests that computer users need to have eye exams prior to working with the devise and at least once a year afterwards.
2. Give your eyes a break.
Focusing fatigue is one cause of eye strain. Your eyes get tired from constantly staring at the screen. This is why it is important for you to look away from your computer screen at least every 20 minutes and look at a distant object at least 20 feet away for 20 seconds. This technique is called 20-20-20.
Video: Information from the American Optometric Association on children, computer use, and how it can affect their eyes.
3. Blink often.
Did you know that blinking frequently while working with your computer is key in preventing dry eyes? Blinking is important because it prevents irritation and dryness by rewetting your eyes. People who work with computers often don't realize that they hardly ever blink, causing eye strain in the end. Tears that coat the eyes have faster evaporation rates if you are not blinking, causing your eyes to dry easily, especially in air conditioned rooms.
4. Upgrade your computer monitor.
It is essential for you to upgrade your computer's monitor. You can upgrade your big tube style computer monitor with an LCD or LED screen like those in laptops. This new wave of computer screens is much better on the eyes, because these come with consistent surfaces and higher refresh rates, unlike the old tube style screen which have frequent flickers in them. These flickers can cause eye strain, especially if your monitor's refresh rate lies below 75 hertz (Hz).
Flat screen LCD or LED displays with high resolutions are controlled by its backlight, so flickers aren't an issue. Lastly, choose a display for your desktop that's at least 19 inches diagonally across.
5. Screen brightness adjustments.
The brightness of your computer screen should be just about the same amount of brightness as your work environment. You can adjust your screen by simply judging it as it is. For example, if your monitor is acting as a light source, it's too bright. However, if your display seems too dull or gray, it's too dark.
Your computer screen's text size and color also matters. By simply adjusting these factors, eye strain can be easily minimized.
Investing in computer glasses is a good move if you experience tired eyes from computer use.
6. Consider investing in computer glasses.
If you are already using glasses, have your prescription checked from time to time. If you are interested in computer glasses, we are more than able to help you. Visio-Rx offers many different computer glasses. Simply choose your preferred lens style (single vision, bifocal, or progressive), and we will make sure that you get great glasses that give you crisp computer vision.
7. Glare reduction.
Glare is one culprit for inducing eye strain. Finished surfaces and walls often produce glares which cause reflections on your computer screen. This can eventually cause eye strain. In order to prevent or lessen glare you can install an anti-glare device on your screen. Another option would be to work in an area where the walls are darker with matte finish. Also, covering windows can help reduce glare.
Furthermore, if you are wearing glasses not purchased from Visio-Rx.com, make sure that the lenses have an anti-reflective (AR) coating which lessens glare by keeping light from reflecting off the surfaces of your eye wear's lenses.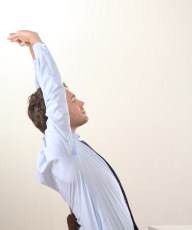 Stretching regularly throughout your work day will loosen up tense muscles.
8. Take regular breaks.
Taking regular breaks is especially important when your work involves prolonged sitting down. Without a break from constant sitting down, your body may be at risk for neck pains, back pains and injuries, and CVS. Try standing up after 30 or 60 minutes and stretch. Focus your attention on stretching your arms, shoulder, back, neck, and legs. This can help reduce tension and prevent fatigue.
9. Work with adequate lighting.
Yes, the computer screen may be clear and you might think that the light is already good enough, but your eyes may be deceived. One of the major causes of eye strain is too much bright light from strong interior lighting or sunlight coming through your window. You can manipulate your environment by closing blinds or drapes to eliminate sunlight and lessen interior lighting. Position your computer's monitor in such a way that the window is next to the monitor, instead of in front or behind.
10. Rearrange your work area.
By rearranging your work area, you can easily reduce the risks for CVS and other eye related problems. Start modifying your work area by ensuring the right amount of lighting, using the right computer chair, and using a document stand for printed documents. The middle of your screen should be 10 to 15 degrees below your eyes to allow comfortable positioning.