Computer Vision Syndrome
Almost everyone uses a computer at some point in time during their day. Also, about 75-90% of computer users complain of things like aching, burning, dry or tired eyes, shoulder or neck pain, headaches, light sensitivity, and blurred or double vision. These symptoms can occur in any combination, and is often referred to as computer vision syndrome (CVS).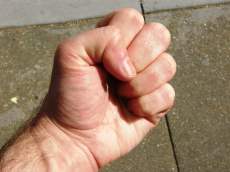 Focusing on a computer screen all day is like closing and opening your hand for 8 hours.
Why Does Using a Computer Extensively Cause Fatigue?
Well, in a nutshell, it's because your eye flexes and relaxes all day long, because it is trying to read information on the computer screen. Eyes focus extremely well on things with a well-defined edge, such as ink on paper. When you examine a printed page with a light meter, the wave produced from the contrast between paper and ink would be a square wave.
If you examine an electronically generated letter with the same light source, you would see that each individual point on the screen (also known as a pixel) is most intense at the center and gradually fades off toward the edges. This creates a Gaussian wave, which looks like a bell curve, and creates a very "bumpy" surface, making it hard to maintain a comfortable focus for any extended amount of time. The eyes will try to focus on the computer screen, but cannon maintain that focus for a long time.
Eventually, the eyes will return to the resting point of accommodation (RPA) which falls somewhere behind the screen, and then refocus on the screen. Compare this with holding your arm above your head while closing and opening your hand for about 6-8 hours… You'll get very tired. What happens when you try to pick up an apple with that hand? That's exactly what happens to your eyes after focusing on a computer all day and then trying to focus on a distant object.
Relieving Your Eyes of Stress
Taking care of your eyes is extremely important; no one would disagree with that. To ease the discomfort caused by CVS, take a break from your computer hourly. A 10 minute break is highly recommended, but if you don't have this luxury the 20-20-20 routine will work just fine as well: focus on an object 20 feet away for 20 seconds every 20 minutes.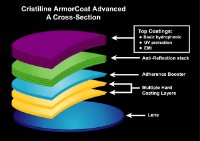 Cristiline® ArmorCoat Advanced: click to enlarge cross-section.
Use an ergonomic chair for your computer activities and make sure your keyboard and monitor are positioned in such a way that you are holding your neck in a natural position (i.e. not looking up or down to see the screen). This will reduce the shoulder and neck pain.
If there is a lot of light reflecting off your computer screen, try dimming the lights. Lighting that mimics a slightly overcast day is the best for using a computer, because it eliminates harsh glares on the computer screen. If your office uses fluorescent bulbs as lighting, try a non-glare screen or a filter fitted over the screen. And, of course, an anti-reflective coating on your lenses will help reduce fatigue in your eyes as well. This is included standard in our Cristiline® ArmorCoat Advanced coating package on any pair of Visio-Rx glasses. An EMI coating will help as well, which can be added when you upgrade to the Cristiline­® Premium coating. We've got more tips for you here.
Computer Glasses
The best solution to CVS is to get special computer glasses made. These glasses are specifically made to help make focusing on your computer screen less taxing, by creating a lens that focuses on intermediate vision (the vision you use while working with a computer).
In the past, glasses have been far too expensive to consider creating a pair just for computer use, but thankfully Visio-Rx.com offers you this option at our standard low prices with outstanding quality. To order computer glasses, check the "Computer Use" option when asked what you use your glasses for upon check out. We will do the mathematics to make sure that you receive the appropriate power in your new computer glasses.