Computer Vision And Worker Productivity
Between 50% and 90% of computer workers endure symptoms of CVS.
Headache, tired eyes, blurry vision, and muscle aches are what you may experience if you use the computer for prolonged periods of time. These are all symptoms of computer vision syndrome (CVS). If you work with a computer most of the day, you need to make modifications in the way you perform your job. Otherwise the symptoms of CVS may worsen and your productivity will suffer.
Understanding more about CVS, as well as the benefits of the provision of proper care to your eyes, can help reduce errors and worker disability claims, and increase worker productivity.
Does CVS Pose a Problem at Work?
Surveys conducted by the American Optometric Association (AOA) suggest that the most common health concerns of computer workers are related to vision. Their survey indicated that 50 to 90 percent of computer workers endure visual symptoms of CVS. Blurred and double vision, dry and irritated eyes, and eye strain are common symptoms. With the number of computer workers increasing, CVS is turning into a bigger public health concern.
Worker Productivity and CVS
The University Of Alabama Birmingham (UAB) School Of Optometry studied the relation between workplace productivity and vision of computer workers. The study found that there is a direct relationship between workplace productivity and vision correction. This is apparent with those doing jobs such as data entry. There was also a direct relationship between the time needed for a computer user to do a task and adequate vision correction. When the subjects wore glasses with less than optimal correction, computer related tasks took longer to complete.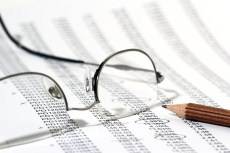 Providing computer vision solutions to workers will increase their productivity, research suggests.
Lastly, they found a diminished worker productivity with computer users who were not aware that they already had problems with their vision. Computer workers with no refractive errors may not realize any discomfort in vision. However, without the right vision correction, their specific task performance decreased by 20 percent.
The Bottom Line with Using Computer Eye Wear
The UAB study also found that computer glasses bring a significant amount of economic benefit to employees. This was verified by measuring the mean gain in computer worker's productivity for one year. Productivity gain was then divided by the economic improvement gained while these workers were wearing computer glasses.
The question: Should computer workers be provided with the right eyewear for their job? Studies have suggested that significant increase in productivity have justified the costs of these glasses. Below are examples of proof concerning this justification.
The use of computer glasses can increase worker productivity by 5%
With the right computer vision care, employees who are experiencing CVS symptoms showed productivity gain, as well as employer's cost savings.
Back aches, shoulder pains and other problems caused by computer related problems can be significantly reduced with proper computer vision care through ergonomic programs.
Incidents of worker's compensation claims were minimized through computer vision benefits programs.
Finally, the study confirmed that investment on quality computer glasses for employees can result in a noteworthy cost-benefit ratio, according to the study's chief investigator Kent Daum, OD, PhD.