Computer Glasses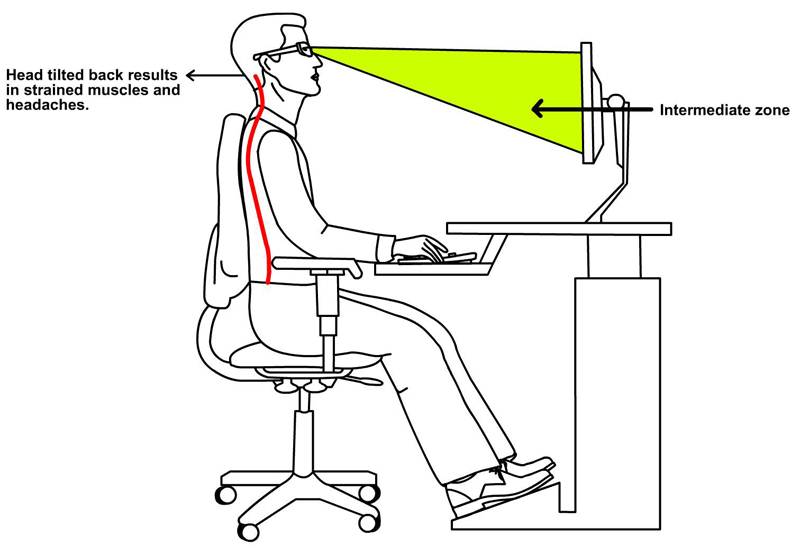 Click to enlarge image. Everyday progressives aren't made to give you optimized computer vision, thus resulting in an unnatural position behind the computer.
Eye strain and other symptoms of computer vision syndrome (CVS) are common among avid computer users. Many are unaware that the symptoms they are experiencing pose a risk to their health. Unlike other activities, the visual effort exerted with computer work is more stressful, thus compromising the eyes.
Eye strain or blurred vision while working with computers are common. If you are experiencing these symptoms, it's probably due to your eyes' inability to focus accurately on your screen. Another reason for this might be the fact that your eyes have difficulty changing focus from the screen to the keyboard for longer periods. These problems are usually connected with CVS.
What can you do to prevent these things from happening to you? There are a bevy of options for you to minimize the risks of eye related disorders due to prolonged computer use. A comprehensive eye exam is a great start. Go to your doctor and have your eyes checked for vision problems. If you are already wearing glasses, you may want to reevaluate your prescription. An exam is crucial because an inaccuracy in your lenses can cause damage or lead to CVS.
If you have up-to-date glasses or don't wear glasses and are still experiencing CVS symptoms or general discomfort while working with your computer, investing in a pair of customized computer glasses may be an answer. These glasses are specifically designed to lessen eye strain and allow you to see clearly, providing additional comfort when using the computer.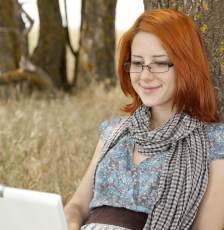 Computer glasses can make you more productive.
Why Computer Glasses?

Your regular glasses differ from computer glasses. Computer glasses are specifically designed to ensure clarity while looking at your computer monitor, which should ideally be about 20 to 26 inches away from your eyes. This distance is known as your intermediate zone of vision.
Without the use of the right glasses, lots of computer users end up having eye discomforts such as blurred vision, eye strain, and head ache. These are the basic indicators of CVS. What is worse is that people compensate for the symptoms that they are experiencing by leaning forward or positioning their eyes closer to the monitor. Many progressive lens wearers tend to tip their heads back just to look through the appropriate intermediate area of their glasses, resulting in sore backs and shoulders.
Optimum lens power is the main idea behind these computer glasses. These glasses are specially designed to let you view your computer screen clearly on a wider field without having you resort to painful body positions. With these glasses, your work productivity can be significantly increased and fewer errors may occur.
Computer Lens Designs
Visio-Rx offers a wide variety of computer lens designs.
First off, we have our range of Adnuo® Optimo Desk Bifocals. We offer these in round top, flat top (D style), invisible round top and executive styles. These bifocals are outfitted with optimized intermediate vision in the main part of the lens, with a segment for near vision in the bottom of the lens, so that you can see everything on your desk clearly.
For progressive lenses, we have 3 designs: Visiero® Desk, Visiero® Office, and Visiero® Business-DRP.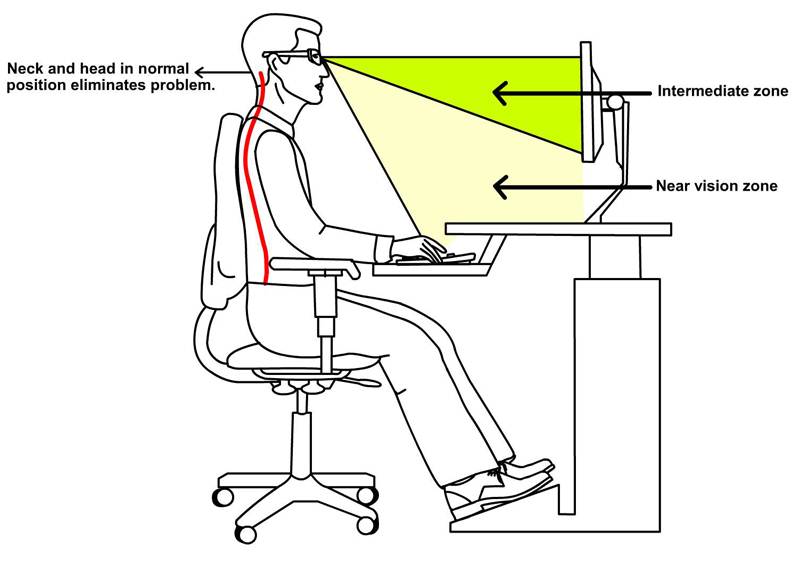 Click to enlarge image. With a pair of office lenses, vision in the work zone (intermediate and near vision) is optimized. This results in a significant reduction of neck and shoulder movements, a relaxed work posture, and elimination of fatigue.

Visiero® Desk is a design that optimizes the view of your desk. The top of the lens is outfitted with intermediate vision, and progresses down through the lens to a powerful near vision segment.
The Visiero® Office design will enable you to see a range of up to 4.2m (approximately 13.5 feet), to give you clear vision of your office, your computer, and your keyboard.
Visiero® Business-DRP are Digital Ray Path lenses, which means they are fully personalized to your face and your frame. This design has a small part at the very top for distance vision, so presentations and speakers can be seen without having to switch your glasses.
Coatings
Anti-reflective (AR) coatings are essential for your computer glasses. The idea is that AR coatings can help reduce and even eliminate reflections of light from the surfaces of your lenses that can possibly cause eye strain. All lenses sold by Visio-Rx come with our Cristiline® ArmorCoat Advanced coating package, which includes all necessary coatings at no extra charges. For a small fee, an upgrade to Cristiline® ArmorCoat Premium may be purchased.