Computer Ergonomics
Today's technology, particularly computers, can create new strains in our bodies. Computers are beneficial, there's no question about that, but little do we know that our eyes are at stake for damage without proper care.
Eye strain; you've probably experienced it after prolonged computer use. Anyone who uses the computer for extended periods of time, be it at school, work, or at home, is at risk for burning eyes, headache, sore neck and shoulders, and other symptoms that encompass computer vision syndrome (CVS). Fortunately, there are ways to prevent or to treat these symptoms as early as possible.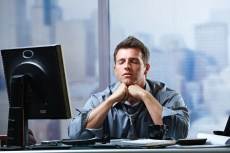 If your office area is putting stress on your body, consider changing it around to be more ergonomically correct.
Solutions may be as simple as adjusting your work area. One of the keys towards preventing computer related problems is creating an ergonomically correct computer environment.
Computer Ergonomics: What Is It?
To start with, ergonomics is the study of designing a work area to fit the worker's needs. Its goal is to make the employee fit comfortably with his work area in order to optimize his or her performance, thereby reducing the risk of work-related strain injuries. With regards to computer ergonomics, it is the field which deals with the optimization of a computer workstation to lessen certain risks for CVS such as back and neck pain, and carpal tunnel syndrome.
OSHA Tips for Visual and Computer Ergonomics
Computer ergonomic consultants are expensive. Luckily, they are not necessary for applying comfort into your work station. There are many ways a work area can be arranged to prevent discomfort, stress, and other computer related injuries. The Occupational Safety and Health Administration (OSHA) of the USA's Department of Labor recommends the following:
Always directly face you monitor and avoiding looking at it with your back twisted or head turned.
Your elbows should be close to your body.
The position of your display should be well adjusted so that outdoor lighting and reflections can be prevented.
A document holder is essential if you are working with print documents. This should be positioned at the same distance and height as your computer.
Your computer display should be positioned in a way that the top of your monitor is a little below or exactly at eye level. This ensures comfort and safety for your neck.

Proper posture behind the computer is the best way to prevent body strain.

Sit in a comfortable chair and sit upright properly in such a way that your neck and head are in line with your torso. Do not bend down, slouch, or tilt your back.
Your monitor should be positioned a comfortable distance away from your eyes to ensure comfort when reading text on the monitor, without leaning.
Use a chair that offers support to your lower back and has a well cushioned seat and fitted edge.
Make sure to keep your mouse closer to your keyboard so that you will not have a hard time reaching it.
A hands free headset is also essential if you are often on the phone while working with your computer.
Probably one of the most important tips is to adjust the height of your desk and chair; good posture can effectively help prevent back and neck strain. Use the following guidelines:
Make sure that your upper arms and the floor are perpendicular and not angled backward or stretched forward.
Your thighs and the floor should be parallel. Your lower legs and the floor should be perpendicular with each other.
Your hands, wrists, and forearms should be at a 90- degree angle with the upper arms
Your palms and wrists should not be rested on sharp edges.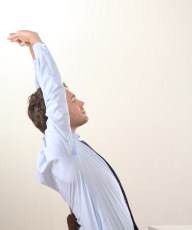 Stretching regularly throughout your work day will loosen up tense muscles.
If you are wearing progressives or bifocals, you should have a comfortable view of your computer monitor so that you do not have to tilt back your head. Always remember to wear your glasses if you are prescribed by your physician to do so.
By simply following all of the tips mentioned above, anyone who works with the computers can minimize risks for stressful postures that lead to back pain, neck pain, headache, and other CVS symptoms. However, you have to keep in mind that prolonged usage of the computer, even using the best workstation, can still put your eyes and your body under stress. In order for you to relieve stress that can potentially lead to CVS and other physical disorders, you need to have regular breaks while doing prolonged computer work.
Optometrists and many experts specializing in computer vision suggest that long term computer users should get up or move away from the device from time to time. A break of 15 or 20 minutes is good enough. The 20-20-20 method is very useful and productive: Every 20 minutes stare at an object at least 20 feet away for 20 seconds. And make sure to blink plenty to prevent your eyes from drying out.