Home Trials: A Free Lunch?
Why Does Visio-Rx Not Offer Home Trials?
Some websites offer the option of home trials. They will send the selected frames to the customer and the customer can try these on in the comfort of their home. This sounds like a great concept. Why does Visio-Rx not offer this?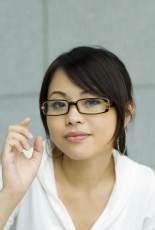 Do you need to try your glasses on at home? Or do you prefer the best price?
Sending frames for trial to a customer requires a lot of organization: the security deposit needs to be arranged; staff is required to pick and box the frames; inventory needs to be monitored; shipping needs to be arranged and paid for; shipped frames need to be monitored for quantity and time; return postage is due; returned frames need to be inspected for damage and need to be put back in inventory; credit needs to processed; the list goes on.
Even from a customer perspective, the service is not always that convenient. The customer needs to keep track of the delivery. Usually there is a maximum number of days the frames can be kept, before return becomes more difficult. Returning involves going to the post office or arranging pick-up. And, obviously, the prices from sites that offer the trial service are significantly higher than on Visio-Rx.com.
Unfortunately, there are very few free lunches in life. The convenience of receiving trial frames at your home carries a significant cost, which needs to be reflected in the price of all frames sold. Thus, also customers who do not want the home trials pay for the convenience of others.
Our philosophy is to offer quality frames with quality lenses at unbeatable prices. Incurring large additional expenses for a home trial service does not fit with our philosophy. Instead, you will find on our site the tools to ensure you are perfectly happy with your frame choice, such as:

View any frame in our entire collection from any angle.
Clear 360 degree picture presentations of all frames.


The best virtual mirror in the industry.


Upon check-out, upload a few pictures, so our lab can pre-adjust your chosen frame.
And of course, we offer a great refund policy should you not be entirely happy with your frame upon arrival.