Buying Eyewear on the Internet? Is That Possible?
For a few years now, websites have been successful in selling eyewear over the internet. Judging by the rapid and continuing growth of visitor numbers to these websites, it's a sales channel that is very much appreciated by customers; no doubt because of the convenience and price levels offered. The momentum continues to grow and customers are willing to buy glasses online.
Should You Consider Buying Glasses Online?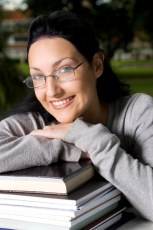 Online glasses for 90% of the eyewear population. Easy and safe.
From a realistic customer health perspective, how wise is it to buy your eyewear on the internet? Judging from the comments by independent dispensing opticians on their professional forums, there are two overriding feelings:
A sense that customers can only be adequately assisted in person, by a qualified optician.


Tremendous concern and fear about the threat posed by the availability of good quality eyewear on the internet.
How Valid Are These Opinions?
For most people with an up-to-date prescription, buying eyewear is rather straight forward. As much as opticians would like to make it sound complicated, it is not so for 90% of the eyewear users. For the 10% of users that have a complicated prescription, or have constant problems with their vision, frame, lenses etc. it is better that they buy their eyewear from their dispensing optician. These customers usually know themselves that they require a lot of ongoing support, and this is something no website can offer.
How to Ensure a Proper Lens Fitting
Another important element in properly fitting glasses is the way the lenses are fitted in the frame. Two dimensions are important:
Pupillary distance (PD): the distance between your pupils.


Vertical fitting height of the lens.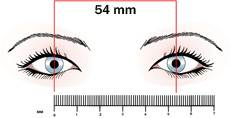 Pupillary distance (PD) is the distance between your pupils.
Both are critical measurements to ensure that the optical center of the lenses sit exactly in front of your pupils. So how are these measurements obtained?
Pupillary Distance (PD)
PD is measured by the eye doctor or the dispensing shop. It is a 1 minute job, using an inexpensive little box called a PD meter. Unfortunately, as a result of the threat posed by the eyewear websites, some eye doctors and opticians have become reluctant to provide this measurement to their customers. They measure, but keep the value in their files.
Should you not have your PD, no problem. Visio-Rx has an excellent online pupillometer built into the virtual mirror that will provide you with your PD in a few simple steps.
Vertical Fitting Height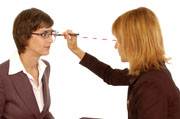 Measuring fitting height is easy in person.
The vertical fitting height matter is more complicated. Dispensing opticians have a valid point here.
What is the vertical fitting height? If in the past when you have bought your eyewear from a good dispensing optician, you will have been asked to wear the frame, and with a thin marker the optician would have made a small mark on the demo lenses in the frame. This indicates the vertical position of your pupil for your chosen frame. With this measurement on the demo lenses, the optician can measure the fitting height (distance from the bottom of the lens to your pupil location) and provide this to the lab that mounts your lenses in the frame. It is easy to understand why this measurement is easy to take in person in a shop.
How Do Eyewear Websites Obtain This Critical Measurement?
Unfortunately, this is a measurement that almost no eyewear website mentions. They sweep it under the rug and hope the customers will not notice or care. These websites will base the vertical fitting on averages. That is fine if your pupil location for a certain frame is at the average height. But how do you know? And what if the height is not average? Then you are out of luck.
Since the eye is so flexible, it will accommodate to a wrong lens position. You may start to develop headaches, muscle strain, or worse over time – and all without realizing it is as a result of this inappropriate vertical lens fitting. This is a major shortcoming of most websites and something that has the potential of causing this distribution channel a bad reputation.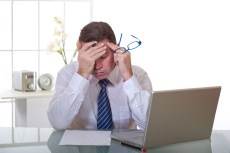 Incorrectly fitted lenses can cause headaches.
In what way can websites address the vertical fitting height issue? First of all, it needs to be recognized as a real issue by the sites. Unfortunately, many sites are set up and run by people who have scant experience as a dispensing optician. But also sites which are run by opticians fail to address this - in our opinion a gross neglect of what these opticians have been trained to do.
To properly address this matter, the sites will have to make a significant investment in developing software based tools to capture this information.
In our opinion, Visio-Rx.com is currently the only website in the world that has addressed this critical question. After ordering, you can upload some pictures, which are then used by our lab to extract the correct values. This ensures a perfect lens placement in your frame.
Frame Adjustment
Another aspect where shops have an advantage is when the customer takes delivery of the frame. If the frame does not fit perfectly, the optician is there to make a few simple adjustments to achieve a better fit. Most websites do not address this matter and simply refer customers to a shop if the fit is not right (we wonder how many customers enjoy taking their new internet-bought glasses to a store). At Visio-Rx, customers are requested to upload a few pictures during the ordering process, which are then used in the lab to pre-adjust the frame to the customer's head dimension. This appears to work well for the large majority of our customers and makes buying glasses online easier for our customers.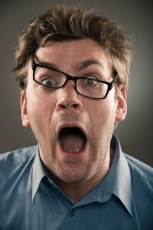 Why settle for glasses with a less than pefect fit? Instead, get pre-adjustments on all frames!
By the way - should you think all shops do a good job in this respect, then read this report from the Netherlands Consumer Review organization (a sister organization to Consumer Reviews in the US). Based on anecdotal evidence, there is no reason to believe it is different elsewhere. Quite an eye-opener!
Optical Shops Response
How are optical shops and chains addressing the threat and opportunity of eyewear being offered online? In various ways:
Bad Mouthing: An almost instinctive reaction of (mainly independent) opticians. They do not like this sales channel and hope it will go away (how likely is that?). An independent optician does not have the time, technical resources, staff or money to set up a professional website.


"We also have a website": Some optical chain stores have started offering eyewear online. But they are reluctant to do so. Obviously, these chains are in a terrible bind. Their companies are built around a distribution model that includes an elaborate network of expensive shops. To pay for these shops, the prices of the glasses need to be high. So when setting up their websites, they will still need to charge the same high prices, so as to not "cannibalize" the sales in their shops.


"If you can't beat 'em, join 'em": The largest lens manufacturer in the world, Essilor (France), has recently acquired 50% of the shares in one of the largest USA based eyewear website. With this, Essilor appears to be creating a significant presence in this new and exciting sales channel.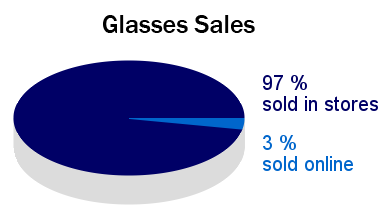 Only a small share of glasses are sold online.
Summarizing
90% of the eyewear population is a candidate for buying glasses on-line. Since currently less than 3% of all eyewear is sold via the internet, this is obviously an enormous threat hanging over the optical shops.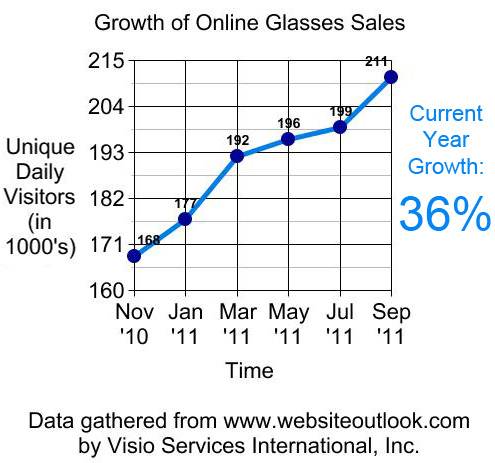 It's easy to see why optical shops fear the optical websites.
What's the Future of Optical Shops?
It is quite conceivable that internet sales of eyewear will result in a huge drop in the prices of eyewear. This could result in shops having to concentrate on a smaller customer base willing to pay high prices; on customers with vision problems that require the personal assistance of the optician; or paid-for services like repair and adjustment of frames, etc.
We are living in interesting times. Certainly, the eyewear websites have room to professionalize their technical support to the customer. Over time, this is sure to happen. That it is possible is already being demonstrated by Visio-Rx.com.