Blue Light - Protect Your Eyes
Blue-R
Eliminates harmful blue light completely

- Blue light blocker for harmful blue rays in 400-450nm spectrum
- Fashionable light yellow tint
- Enhances contrast
- Recommended for prolonged exposure to harmful blue light (LED and fluorescent lighting; monitors; tablets; smart phones; etc.)
SHOP Blue-R
Complete pair starting at $42
Blue-X
Reduces harmful blue light by 20%

- Blue light reducer for harmful blue rays in the 415-450nm spectrum
- Perfectly clear lenses
- Recommended for infrequent computer use
SHOP Blue-X
Complete pair starting at $42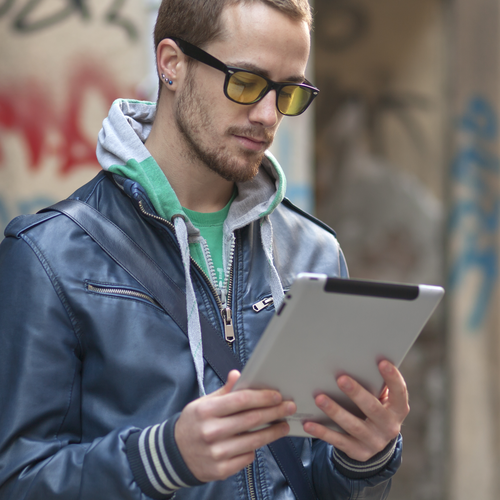 Blue-R results in a fashionable slight yellow tint. Applying a special dye which penetrates deep into the lenses results in a change in the crystalline structure which produces an absorption layer to filter out all harmful blue light in the 400 - 450nm spectrum.
After removing the harmful blue light from the color spectrum, the lens color shifts, resulting in a light yellow lens color.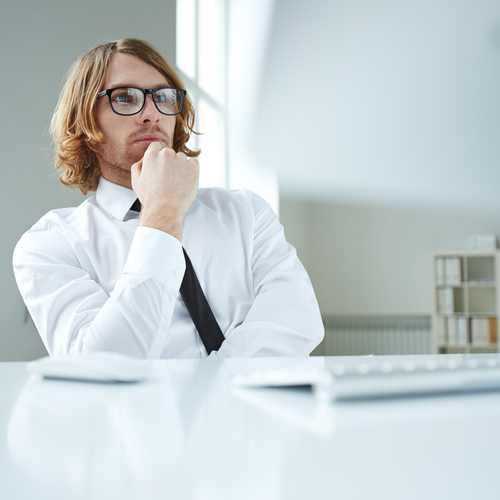 Blue-X maintains a perfectly clear appearance while reducing blue light transmission by an impressive 20% in the 415-455nm spectrum.
Blue-X works by reflecting back part of the blue light. The reflective color of the lens has a slight blue hue to it (as opposed to the green hue for standard anti-reflection coatings).
Blue-X or Blue-R?
Are you exposed to harmful blue light during more than 3 hours per day? We would recommend to get 2 pairs of glasses. Use the pair with Blue-Rduring all of your indoor and screen/computer related work.
Exposed to less than 3 hours of harmful blue light daily? You will probably be served well with the Blue-X coating,
Even though Blue-R will provide surprising effects in reducing night blindness while driving, we do follow the recommendations of the Sunglass Association of America to not use any tinted lenses during night time driving. We offer a different, much more appropriate solution for customers who suffer from night blindness,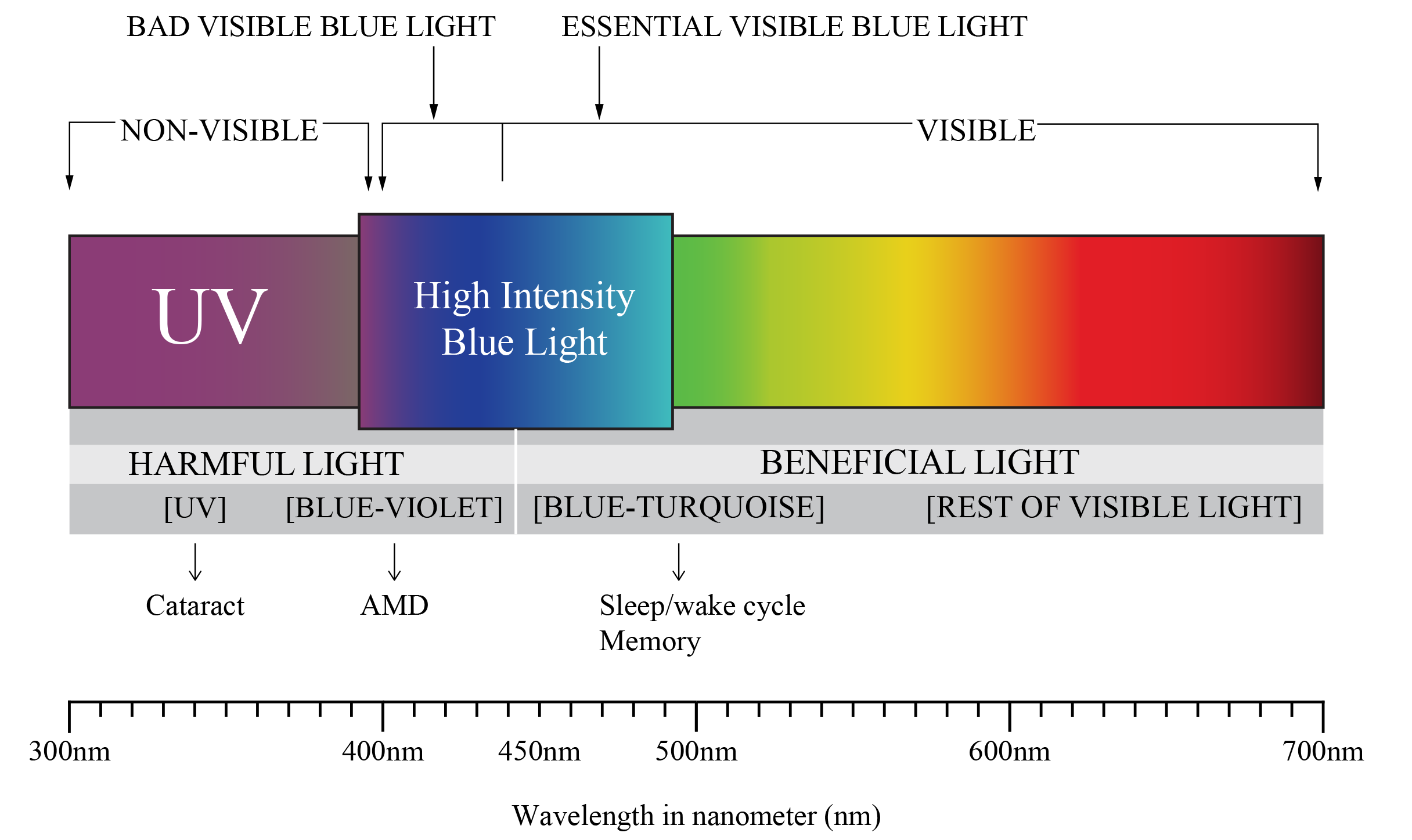 Harmful blue light is a portion of the visible light which enters our eyes. It is a natural phenomena, but in excessive amounts like our modern world, it can cause:
- Disruptions to the circadian rhythm
- Digital Eyestrain Syndrome (blurry vision; difficulty focusing; dry and irritated eyes; headaches; neck and back pain)
- Increase risk of depression
- Greater risk of certain types of cancer
- Greater risk of diabetes, heart disease, and obesity
- May contribute to age- related macular degeneration
Beneficial blue light is an important ingredient for our health, and it is important that the lens properties ensure that these are not filtered out.
- Helps regulate circadian rhythm (the body's natural sleep and wake cycles)
- Boost alertness
- Helps memory and cognitive function
- Elevates moods
Visit Bluelightexposed.com for a complete overview of blue light, its causes, and consequences.

Nowadays, youngsters are on average exposed to 6.5 hours of 'screen time' daily.
Some 75% of computer users report experiencing discomfort from high levels of screen use.
At Visio-Rx we take your health seriously. Which is why we offer lenses for all budgets. We understand that the Cristiline Premium with Blue-X or Blue-R upgrade adds $69 to the price of a pair of glasses. That is a fraction of what you would pay for the same protection in an optical store. During check-out, you will be offered the option to select these upgrades.