Nose pads
Want more comfort for your new frame?
Standard nose pads on frames are almost always hard plastic. This is the same for both expensive designer frames you buy in a shop, and for less expensive frames on the web.
Silicone nose pads are much softer and make your frame more comfortable to wear, but it's rather expensive to order these in a shop.
Nose pads usually last anywhere from 2 - 4 months before they discolor and need to be changed. They cost almost nothing at Visio-Rx and will allow you the freedom to change your nose pads yourself (see here for a tutorial).
When ordering spares, we will change the plastic pads on your new frame to silicone as well.
During the checkout process, you will see the silicon nose pad option on the 'Upgrades' page.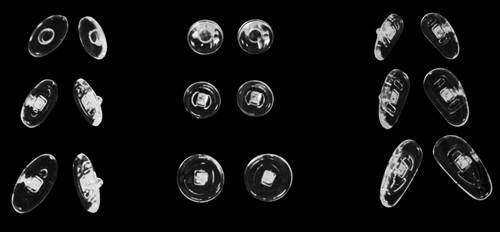 Variety of silicone nose pads.