Vision Changes with Age
Our eyes, just like the rest of our body, decrease in productivity as we get older.
There are a lot of age related eye disorders which are part of nature's way of challenging our health. Eye problems like presbyopia and cataracts are common among the elderly, especially those who are in their 60s. Thankfully these can be corrected through many effective means. Other people, however, experience more serious problems which have greater probabilities of affecting the quality of their lives.
Video: Near vision and presbyopia explained.
Timing of Age-Related Changes
When you reach the age of 40, you will realize that focusing on nearby objects is slowly becoming an increasingly bothersome task. This is called presbyopia. It is a normal condition that involves the loss of near vision, due to the stiffening or lengthening of your eye's lens. The moment you will primarily notice such condition affecting your vision, you may still be able to compensate by moving your reading material away. However, presbyopia develops and worsens with age. Getting an eye exam regularly will help you remedy the loss of near vision.
In the long run, you will at least need reading glasses to help you perform nearby activities more productively. In some cases, the doctor might suggest vision correction surgery for presbyopia.
You may need to change glasses from time to time as your prescription increases, since presbyopia tends to worsen with age. You can opt for progressive lenses, which combine several powers into one lens, eliminating the need for multiple prescriptions for reading, computer work and driving.
Video: the 4 different types of progressive lenses explained.
Apart from presbyopia, cataracts are also common. Cataracts are fairly common, and, thankfully, there are ways that can help correct it. Modern cataract surgery is an efficient and safe procedure that restores 100 percent of the vision lost to cataracts. Apart from surgery, multifocal intraocular lenses can also work for treating cataracts since these can help restore vision ranges, thereby by minimizing the need for reading glasses.
Other Dangerous Eye Diseases
There are other major eye diseases that are related to age. One to particularly note is macular degeneration, also known as age-related macular degeneration (AMD). This is the number one cause of blindness among Americans aging 60 and over. The National Eye Institute (NEI) states that AMD affects almost 2 million Americans and that by 2020 this number will rise to around 3 million, partly due to the aging of the "Baby Boomer" generation.
Just like presbyopia and cataracts, you have a higher risk of developing glaucoma as you get older. Glaucoma is on the rise, with predictions of 3.6 million cases by 2020.
Getting your eyes checked regularly can help prevent or slow down vision loss.
Diabetic retinopathy is also a dangerous disease to watch out for. The NEI estimates that around 10 million people over the age of 40 have diabetes. 40 percent of these diabetics have some stage of diabetic retinopathy, which can cause blindness.
Getting regular eye exams will help detect these diseases early, allowing you to take control of your eyes and keeping them healthy for as long as possible.
The Effects of Age on Your Eye Structure
Apart from age related eye disorders, our eyes undergo subtle changes because our eye structures change as we mature.
Peripheral vision loss occurs with age. Your visual field decreases by 1 to 3 degrees every ten years of your life. So when you reach seventy or eighty, your peripheral vision loss will be about 20 to 30 degrees. Due to visual field loss, the risk for motor vehicular accidents among older drivers is high. Peripheral vision loss can also be associated with minimal color vision. You retina's cells are accountable for normal color vision loss as you age. This change allows the colors that you see to be less bright with contrasts among various shades to be minimally noticeable. Particularly, blue shades may seem faded or hazy.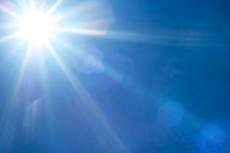 Seniors are more likely to be dazzled by bright sunlight than young people.
Another change is the reduction of your pupil size. The muscles that control your pupil size and its reaction to light start to lose strength as you age. The pupil thus becomes smaller and minimally responsive to lighting changes. People in their 60s need 3 times more ambient light than someone in their 20s. Seniors are more likely to be dazzled of the glare by sunlight, especially when coming out from building that is dimly lit, like a movie theater. Anti-reflective coating in eye glasses as well as photochromic lenses can help minimize this problem.
Dry eyes are another effect of aging. As you grow older, your eyes produce fewer tears, especially among women who are in their menopausal stages. If you are in your 40s and you start to experience stinging or burning sensation in your eyes, you could put some artificial tears on them to relieve your discomfort, but it is best to talk to your eye doctor for other more effective medications.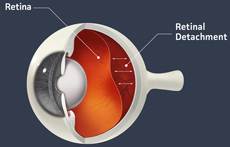 Floaters and spots may be symptoms of retinal detachment, a condition that causes blindness if not treated right away.
Vitreous detachment is a big change that happens to your eye structure as you age. This gel-like structure in your eyes starts to liquefy and detach from the retina. This causes floaters and spots of light to appear. Vitreous detachment is usually harmless, but these symptoms can also signal a major problem, called a detached retina, that can eventually lead to blindness if it's not immediately treated. It is vital for you to go to your doctor if you start experiencing flashes of light.
Coping with Age Related Vision Changes

The best way to combat age related vision changes is through a healthy diet and lifestyle, along with regular eye exams. The right choice of food is your best defense against the disorders mentioned above. Regular eye exams can also help you detect the presence or premature signs and symptoms of eye disorders. Early detection helps prevent the development of complications. Your doctor can give you medications and supplements that can help keep your eyes healthy and functioning properly throughout your life.