Helpful Hints For Safe Driving at 60+
Driving a car is not an easy task. It requires proper focus and vision. For people who are in their 60s, driving any form of vehicle may pose a risk if their vision isn't up to par (or corrected by glasses). According to research, a person's capability to see objects that are moving while he or she is also in motion slowly deteriorates with age, as compared to looking at stationary objects.
As people age, skills such as driving become a challenge because peripheral vision, as well as visual reaction, becomes limited. Here are some tips that older drivers can put in mind before and during driving.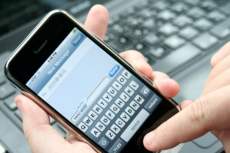 Texting while driving is one of the most dangerous things a driver can do while operating a vehicle.
1. Never use your cell phone if you are driving – This applies to all drivers, not just the elderly. However, older adults need to seriously take note of this since they react slower during emergencies, even when they are not distracted with a cell phone. This danger has been noted in more than 120 studies on the risks of talking on the phone while driving done by Insurance Institute of Highway Safety (IIHS). Moreover, Harvard's School of Public Health found in 2000 that cell phones minimized reaction time and driving performance in older drivers more so than in younger ones. And never, ever, ever text and drive! Texting and driving pose just as big a risk as drinking and driving.
2. When at an intersection, exercise extra caution – IIHS discovered that 40 percent of deadly collisions involving elderly drivers happened at intersections. Often these crashes occurred because of the failure to give way, especially when making left turns.
3. Avoid driving new routes at night time – According to the National Safety Council, traffic death rates are 3 times higher at night as compared to day time. As more and more young motorists drive in an increasingly aggressive way at night, fatal crashes and collisions are more likely as well, making it more risky for older adults. Moreover, even if you wear glasses which you think work well, you may not be well equipped to handle glare or signs that are difficult to read as well as other one of a kind road challenges. It's a good idea for older adults to avoid roads which they are not familiar with, especially those with poor signage and lighting, and inconsistent twists.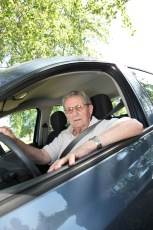 Before getting behind the wheel, evaluate whether or not you are in proper shape to drive, whether physically, mentally or emotionally.
4. Evaluate your diving ability - It is very important for you to know your driving capabilities. The best way to assess your abilities on the road is to have someone ride with you and have him or her judge the way you drive. If you usually drive alone and you realize that you constantly get honked at by other motorists or have been pulled over by police, then you should think about evaluating your driving skills.
These are just a few tips that can help you and other adults drive safely on the road. However, even if you follow these tips but are not sure about your eye sight, then you shouldn't drive until you've had an eye exam.
Driving with Corrected Vision
If you already have corrected vision, you can also take a few easy precautions, like ensuring that you regularly look both ways when reaching intersections. The Vision Council has discovered that a lot of American seniors do not feel the need to have their eyes checked regularly. In reality, more than half of America's senior population hasn't had a dilated eye exam ever. What is worse is that some states do not require elderly drivers to have a vision screening prior to renewing their license.
Here are some steps that can guide you towards maintaining healthy vision and a positive driving even at an older age.
1. Have an annual eye exam – It is highly recommended (and very important) that anyone over 60 gets regular eye examinations. Your eye doctor can ensure that your eyes are free from any age related eye disorder like age-related macular degeneration (AMD) or cataracts. If the doctor finds out that you have presbyopia, he or she may prescribe you with the right driving, reading, or working glasses.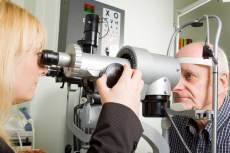 Regular eye checks will help keep you and others safe on the road.
2. Minimize speed during night driving – As you become older, your pupils reduce in size and do not dilate as easily at night. This is a normal age related change. Due to this natural change only a third of ambient lighting reaches your eye's retina when you are 60, as compared to when you were 20. Light transmittance loss minimizes night vision. This is why it is important for older people to drive slower at night in order to compensate visual changes.
3. Go to the best doctor for your age related vision disease – If you have vision disorders such as cataracts, you need to have the best care since this can be a blinding condition if left untreated. Have your eyes examined regularly and always follow your doctor's advice. Your doctor can advice you about surgeries that are recommended. He or she can also advice you about lifestyle changes and talk to you about driving precautions and give you prescription glasses for certain tasks.
Furthermore, the best thing to keep in mind while driving, whatever your age, is to understand the rules of the road. Remember that motor vehicle accidents are the leading cause of injuries in people ages 65 to 75, according to the Center for Disease Control (CDC). Never take such statistics for granted and make sure to practice positive and safe driving habits and schedule regular eye examinations.