Eye Exams Can Save Your Vision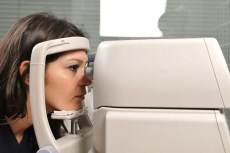 Your doctor will your IOP with a tonometer.
As people age, their eye sight does too. A lot of older people do not realize that they already have existing eye problems. Many people do not realize the consequences of ignoring the slightest changes in vision. In reality, age related visual problems and other eye changes can affect the quality of life. This is why it is highly recommended for anyone to have regular eye exams.
A normal, comprehensive eye exam consist of quite a few tests. Here's a list of some that you may encounter:
Eye pressure test – Also called tonometry. It is a common exam to measure your intraocular pressure (IOP). If your IOP is high, it may mean that you have or at risk for glaucoma, a major cause of blindness. Glaucoma can sometimes be asymptomatic and only shows its signs when it is already in the advanced stage, making it too late for the disease to be treated. With this test done on time and on a regular basis, glaucoma can be diagnosed and treated in its early stages.
Side vision or test for visual field – This is another test to detect glaucoma. Moreover, it can also help detect aneurysms, brain tumors, and other diseases of the brain which are commonly present among older people, by testing for blind spots in your field of vision.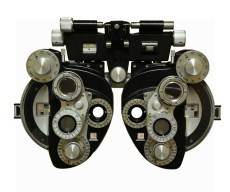 A phoropter is used during a refration test to obtain your exact glasses prescription.
Refraction – This is the testing method used for identifying your prescription for glasses. However, it is not as basic as it seems. The results of refraction tests can allow doctors to detect disorders like thyroid problems, cataracts, and even diabetes. Eye care specialists understand that these diseases can bring great changes to an individual's eyesight, which is why they take such exams seriously.
Microscope slit lamp – This exam focuses on the frontal area of the eyes using a microscope. Pingueculae, eyelid diseases, dry eyes, pterygia, and corneal dystrophies are just some eye disorders that can be detected by this test.
Dilated retinal examination – First, your doctor will dilate your pupils with special eye drops. Then, he or she will look through your enlarged pupil at your retina using a special gadget. With this exam, a bevy of diseases can be spotted. The great thing about this exam is that its affordable and painless. A dilated retinal examination usually shows if glaucoma is present and if there are any signs of macular degeneration. It can also evaluate the eye's lens, which is helpful in detecting early signs of cataracts. Using this test, your doctor can clearly view artery and vein damage, which in turn gives the doctor clues concerning diabetes, high blood pressure, arterial hardening and other diseases of the blood.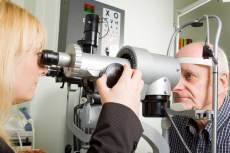 Getting a complete eye exam on a regular basis will enable you to be proactive about your eye health.
Snellen chart – This is probably the most recognized and common eye exam around. The patient is simply asked to read or identify letters as they become smaller. This is a test of visual acuity, and the standard for normal vision is 20/20 vision.
Timely Eye Examinations Can Help Save Vision
Some people hardly realize the importance of going to the eye doctor. Others may recognize the importance, but just don't make those regular trips to the doctor. Eye exams are, relatively speaking, not very expensive since they are not done every week. For young adults, once every 2 years is enough, as long as there are no abnormal changes in vision. As for older adults or seniors, yearly eye exams can help preserve your sight.