Aging and Night Driving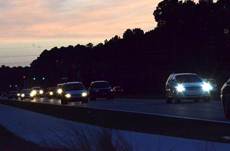 Driving in the dark can be dangerous if your night vision is fading.
As you age, you may notice your night vision getting worse, which poses serious risks while driving at night. And not just to yourself; if your vision isn't optimal, your fellow drivers are at risk too.
A large number of seniors will be on the road in the years to come, because the "Baby Boomer" generation is aging. This won't be a problem if these drivers are proactive and seeing their eye doctor on a regular basis. However, since many states' DMV offices have inadequate vision screening requirements for license renewals, many of these seniors will not be seeing their doctors to correct their vision properly. This could make the roads potentially more hazardous.
Aging Motorists and Road Accidents
According to statistics from the US Center for Disease Control (CDC), younger drivers have a higher probability of being in fatal road accidents. But senior drivers are statistically proven to be at a higher risk of being in any car accident.
About 6,500 Americans lost their lives due to motor vehicular accidents in 2005, according to the National Highway Traffic Safety Administration. Of these 15% were age 65 year and older. The leading injury cause of adults age 65 to 75 is road accidents.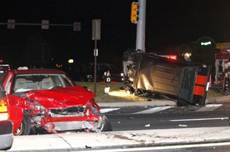 Car crashes are the leading cause of injury among adults age 65-75.
Older motorists should take additional safety measures. The AMA (American Medical Association) stated that a significant number of older drivers are a public health concern due to age related visual problems as well as motor- and cognitive-function problems. These key functions are the very things that makes older motorists become more susceptible to crashes, especially in difficult scenarios that need good visual perception, quick response, and attention.
AAA (American Automobile Association) notes that a normal driver makes approximately 20 decisions every mile and has less than half a second to rapidly react in order to avoid a collision. As we get older our decision and reflex skills are affected, especially when on the road.
Driving Dangers Caused by Aging Night Vision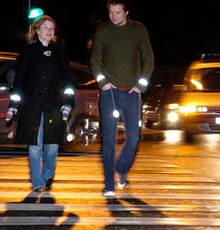 As night vision becomes worse, it becomes harder for many older drivers to distinguish fellow drivers and pedestrians on the road.
Failing vision may progress slowly and go unnoticed, but the consequences are very dangerous.
Higher order aberrations are optical or visual imperfections that cannot be remedied with contact lenses or glasses. This increases with age and vision is reduced especially at night time.

Your pupils do not dilate as much in the dark because they shrink as people get older. This then reduces the amount of light penetrating the eyes. Various studies note that an 80 year old person's retina can process much less light than a 20 year old person.

Older people have decreased capacity to see moving and stationary objects such as pedestrians and vehicles on the road at night, due to poor lighting conditions.

Diabetic retinopathy, glaucoma, cataracts, and macular degeneration affect a third of all people over the age of 40. All of these diseases can cause blindness if left untreated.

As people age, the lens and cornea of the eyes lose their clarity. This causes light to scatter in the eye and increase glare, leading to the reduction of contrast sensitivity. Loss of contrast sensitivity makes it hard to identify slight variations of objects in brightness, making it difficult for older people to see an object on the road at night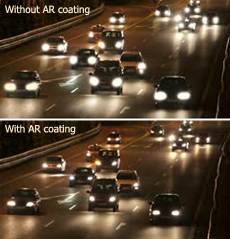 AR coating is extremely useful in reducing glare of oncoming traffic.
The Vision Council's 2006 Safe Driving Report stated that, "ironically, new technology and safety features may also cause additional risks for drivers of all ages." The bright high beams on a vehicle, as well as fog lights, can put people at risk for accidents because of glare from these features.
Thankfully, a simple solution to the blinding glare from oncoming traffic is having an anti-reflective (AR) coating on your lenses. All glasses ordered from Visio-Rx are equipped with this. AR coated lenses reduce the blinding reflections from both oncoming traffic and the headlights of traffic behind you, creating a much calmer and safer environment to allow you to focus on things that matter.
Furthermore, a lot of older Americans do not consider the necessity for a regular eye exam. This is why vision screening exams have become a standard for drivers who wish to renew their licenses in most states. These exams are one of the best ways to ensure safety on the road and screen for visual disabilities, especially for the elderly. Only 8 states (Alabama, Connecticut, Kentucky, Mississippi, New Jersey, Oklahoma, Tennessee and Vermont) do not require any type of vision screening in order to renew a driver's license. All other states require either just elder drivers or both younger and elder drivers to have their eyes screened before being allowed to renew their license.