Presbyopia and Surgery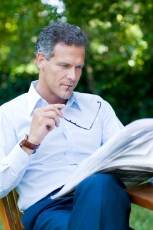 Some people opt to correct their presbyopia with surgery, others choose to wear glasses. The choice is very personal.
Presbyopia is a common disorder concerning up close focusing problems among people about age 40 or older. One of the many choices available for its treatment is surgery. You will typically know that you have presbyopia when fine prints start to look blurry and you cannot extend your arms far enough anymore to bring the print in focus. Even people who had laser surgery at a younger age will most likely need reading glasses as they get older.
Not all eye experts agree about the causes of presbyopia, but most of them believe that the cause is either the stiffening of the eye lens or the continued growth of the lens.
The typical remedies for presbyopia are special multifocal lenses; progressive, bifocal or trifocal glasses. Also, surgical treatments are becoming the options for qualified candidates with presbyopia. Among the most effective surgery solutions for presbyopia is monovision LASIK. This means that one eye is treated for near vision and the other eye for far vision. There are also other equally effective procedures approved by the FDA such as conductive keratoplasty (CK). Be aware that some individuals claim that monovision treatment can lead to loss of an individual's depth perception and may reduce visual acuity.
PresbyLASIK or Multifocal LASIK
A multifocal lens has various zones that correct near, far, and intermediate vision ranges. In this surgery, the zones are positioned in the same way on the cornea or the clear front surface. This procedure is still experimental; it is not yet FDA approved and clinical trials are still ongoing concerning its safety and effectiveness.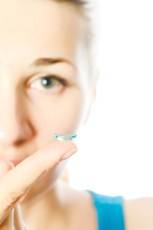 Monovision should be tested with contact lenses before a patient undergoes surgery, since not everyone can adapt to the loss of binocular vision.
LASIK Monovision
LASIK monovision can be an efficient procedure for presbyopia; however, every patient who undergoes it needs to be assessed to see if he or she can tolerate this corrective method. During this surgery, the dominant eye is usually fitted for distance range vision and the other eye for near vision. Therefore, in most circumstances, and depending on where you are looking, one eye will not work as well as the other.
Many surgeons disagree with this method because not everyone can easily adapt to artificially created monovision. A good preparation for this surgery would be to try out monovision created with contact lenses, always under your doctor's supervision, to make sure that adaptation is easy.
Refractive Lens Exchange (RLE)
Another available option for correcting presbyopia is the removal of the natural lens of the eye and replacing it with an artificial lens through a procedure similar to cataract surgery. This is not yet an FDA approved procedure, but it's available for some qualified candidates. Nonetheless, because of the availability of multifocal artificial lenses for presbyopia correction, RLE is becoming popular these days.
Conductive Keratoplasty (CK) Monovision
CK is the use of controlled low level radio frequency energy for shrinking the cornea's collagen fibers in its outer edges. This procedure allows the cornea to be curved more, thereby sort of lengthening the eyeball. In 2004, CK was approved by the FDA as a remedy for failing near vision in presbyopes.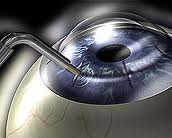 Conductive keratoplasty uses a probe to steepen the curve of the cornea.
CK is also considered a monovision method because a single eye is made to be nearsighted for the improvement of close up vision while the other eye is untouched. Many people prefer CK over other procedures because it is not very invasive. One of its common side effects includes a feeling that a foreign body is on the eyes, fluctuation in vision, and tearing. These side effects usually aren't permanent.
Again, not everyone can easily adapt to artificially created monovision. Trying out monovision created with contact lenses, always under your doctor's supervision, can be a good preparation for this procedure.
Combined Surgeries for Presbyopia
Future methods for treating presbyopia can involve technologies like combining the various options for correcting presbyopia. For example, someone who needs to have cataract surgery and is considering RLE can opt for single vision intraocular lenses (IOL) to be implanted in their eyes for better vision, opt for artificially created monovision, or the patient could opt to have a multifocal IOL put into their eye to aid in distance and near vision.
Also, LASIK can be a good choice for augmenting results after RLE. For PresbyLASIK, success rates have already been noted with a modified monovision procedure, including traditional distance correction in the dominant eye and multifocal correction in the other eye.