Presbyopia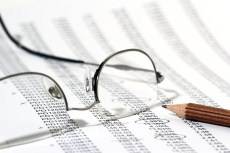 People that need reading glasses have presbyopia.
Presbyopia is an eye condition that tends to happen to most people around age 40. The earliest signs of this visual problem are blurred near vision, especially when doing normal activities such as sewing, reading, and watching television. Sometimes, presbyopia is inescapable. Even myopic (nearsighted) individuals will encounter the blurring of their near vision.
In the United States, presbyopia is a common eye condition. In 2008, there were over 135 million American ages 40 and older with affected. The aging of the "Baby Boomers" spawns the increased requirement for contact lenses, eye wear and even surgery that can help correct presbyopia and treat failing near vision.
Different Signs and Symptoms of Presbyopia
People who have presbyopia feel the need to continuously hold reading material further away from their face. Most people only notice their need for presbyopic correction after their arms have gotten "too short" for proper focusing. Near work like reading, writing and embroidery can easily result in eye strain, fatigue, and headache when presbyopia is left uncorrected.
Video: Near vision, accommodation and presbyopia explained.
Causes of Presbyopia
Age is the primary cause of presbyopia. It is not the same as myopia, hyperopia and astigmatism. These conditions are caused by environmental and genetic factors. Presbyopia is thhought to be caused by the loss of flexibility in or the stiffening of the eye's natural lens. As the eyes age, so does its makeup. Age related changes happen within the lens' proteins, making the lens harder and less elastic as time goes by. These changes also occur in the muscle fibers which are enclosing the lens. If the lenses are less elastic the eyes will have problems focusing on objects up close.
Eyewear: The Simplest Treatment for Presbyopia
Progressive lenses are common correctional lenses worn in glasses of people with presbyopia. These lenses have several areas of power. The major (upper) part of the lens has a distance vision prescription, while the lower part of the lens can hold a powerful near prescription for closer work, with an intermediate zone in the middle. Progressive lenses present more regular vision transition compared to bifocals, which provide distance vision and near vision only, separated by a line.
Video: Long corridors and short corridors in progressive lenses explained.
Reading glasses are also another option for individuals with presbyopia. Not like progressives and bifocals, which people wear on a constant basis, reading glasses are used only for near vision. Additionally, if a presbyope wears contact lenses, the eye doctor may suggest that reading glasses to be worn for near vision while wearing contact lenses. These glasses can be purchased over the counter at any retail store, but beware of the quality of these glasses. Read more about the quality of mass produced reading glasses here. You can also be order reading glasses from Visio-Rx. Simply choose a frame, input the amount of power that you usually purchase (such as +1.00, +1.50, etc), enter your PD, and your new, stylish reading glasses are on their way to you.
People with presbyopia can also choose to wear contact lenses which are multifocal. These lenses are made with soft lens materials. Monovision, which is a distance prescription in one eye and a near prescription in the other eye, is also another correctional aid for presbyopia. This allows the brain to make more use of one eye for doing various tasks. Before deciding on any presbyopic treatment option, talk to your eye care professional first.
Surgery: Another Option for Treating Presbyopia
Apart from eyeglasses, surgery can also be an option for treating presbyopia. Examples are the NearVision CK Treatment and conductive keratoplasty by Refratec Inc. These surgeries use radio waves to apply more cornea curvature for improving near vision. These procedures are done in only one eye for monovision correction. According to studies, NearVision CK can efficiently help treat presbyopia, but its effect may fade over time.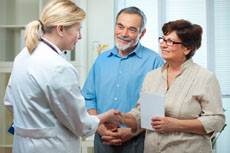 Prior to making a decision about treatment, discuss all your options with your doctor.
Another corrective surgery for presbyopia which is still under clinical trial is the PresbyLASIK. This state of the art process makes use of an excimer laser for multifocal ablation in order to clear the cornea or the front surface of the eyes. This allows vision to be clear at various distances. LASIK is also used make monovision wherein the eye is fixed for near vision while the other eye is for distance vision.
Not all patients can adapt to monovision; a significant percentage of people find monovision hinders their everyday activities, and complain of things like driving their car with the eye corrected for near vision closed, or reading a book with their eye corrected for distance vision closed. Before choosing a treatment option for presbyopia, ask your doctor about the positives and negatives.